How to make it easier on you, your family, and your loved ones.
All you need to know about end of life planning
What is end of life planning?
In short, end of life planning refers to any effort you make to prepare yourself and your family for your final days and your passing. 
It's a lot simpler than you might think.
End-of-life planning involves creating a checklist of the things you want to happen when you're gone—and then making sure that those wishes are carried out.
Although we agree that thinking about your own passing can be quite confronting, we also firmly believe that end of life planning is crucial!
How do I start my checklist?
We create free checklists that help you organize all the information about your end-of-life preferences, and we make it easy for your legacy contacts—your family members and friends who will be taking care of things after you're gone—to see what their role will be and how they can help. 
And we do all this in an easy interface that lets you keep track of everything at one time.
The service will help you plan for your end of life, so that your loved ones can know exactly what you want and need.
It's easy to set up, and it only takes a few minutes and you don't need a credit card to sign up.
A Legacy contact is someone who will be able to manage your last will and make sure that your wishes are carried out as you see fit.

Start cataloging your belongings
Create a list of all your belongings and leave a short description for each item. You can even add a beneficiary to each item so that when you pass away, someone close to you will be able to get them for themselves.

What is the worth of your estate?
Your estate is the total value of all your assets and debts. This is important to know because after you die, it may be inherited by someone else. Typically, when people inherit property, they also inherit debts owed by that property—if there are any.
It's important to know what's in your estate so you can make informed decisions about what happens to it after your death.
A legal document that details how your estate will be distributed after you pass away. Get your Last Will and Testament done in just 15 minutes. We will guide you through the process of how to easily fill out your will online.
If you have children, setting up a trust for them could make a lot of sense. That could be part of your Will too.

Store your digital valuables
Myend is a secure way to give your family or friends access to your digital property. Your loved ones will now be able to contact and help each other immediately when you are no longer there.

Take your time with writing down your thoughts. Compose, add or change messages whenever you want, always.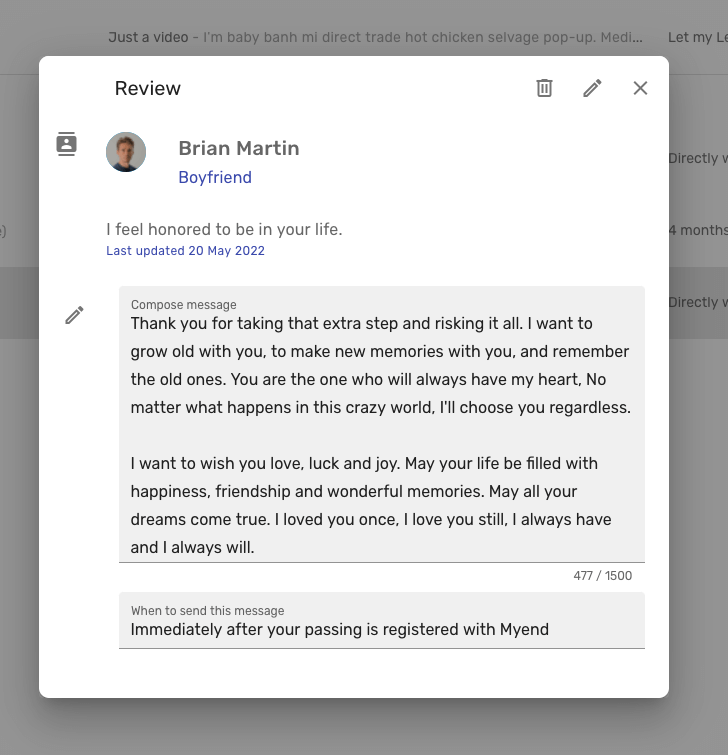 Planning your healthcare isn't just about understanding what to do when you get sick. It's also about planning for the future, so that you can live out your life on your own terms—and know that your loved ones will be taken care of if anything happens to you.
A document that details your medical and healthcare wishes in case you are incapacitated.
This stands for Physician's Order for Life-Sustaining Treatment and is a legal document.
If you are a registered organ, tissue or body donor make sure that you leave your registration details available. If not, now is the time to get registered.
Get your free End of Life planner
Sign up to receive our free checklist to help you get started with your End of Life Plan
Advanced Care Plan
Everybody should be able to live with dignity and on their own terms at the end of their lives. Seize the moment with our Advanced Care Plan.
Euthanasia Statement
Euthanasia may be a complex issue but it's still part of end-of-life planning. And Myend's Euthanasia Statement answers all your questions and allows you make a non legally-binding document.
Donor Statement
Organ donation is an important part of an end-of-life plan. Learn here all about its different types and why you need a donor statement.
Funeral Plan
Funeral planning is becoming more and more popular and now with Myend's end-of-life services it also becomes easier than ever before.
Last Will and Testament
Myend's Last Will is in the center of the Myend end-of-life planning services. Learn now how you can leave a legacy behind in easy, quick steps! This is a legally binding service for all US residents.
E-will
Myend's e-will is an innovative end-of-life planning service. Free, available to all and easily accessible, it's the best tool to leave informal instructions to your loved ones.
Last Goodbye
Sharing a last goodbye message can provide a lot of closure to both you and your loved ones. Learn more about Myend's message service here.
Documents
Myend's documents feature allows you to upload all your important documents to one safe space. Learn here how to use it to its full potential.
Contacts
Why is it so important to add your personal contacts to your Myend account? And how can you best make use of this service? Find out more here.
Legacy Contacts
Learn what your Myend Legacy Contacts are and why they are important for all of your end-of-life planning services and documents.
Belongings
Find out how important your belongings are for your e-will and how you can use them as assets for your Last Will with Myend's end-of-life plan.
Vault
With Myend's free Vault you can not only store your passwords but all your digital assets including photos, videos and social media. Every account comes with one.
Memory Lane
Myend's Memory Lane, lets you create your life's timeline by adding events and photos that you can then share with your loved ones.