– WHITE PAPER –
CONCEPT VERSION

Copyright © 2021  Myend® B.V. All rights reserved.
Abstract
Wealth preservation
Introducing Decentralized Inheritance (DeIN)
About Myend
Product description
Myend's existing Inheritance products and services
Use Case
Myend's planned Inheritance ecosystem
Proof of life
Ecosystem token (MYND)
Conclusion
The use of technology in Inheritance services is relatively new. Most Inheritance cases executed by lawyers or notaries are mostly done in a traditional way with some exceptions of video-calling and remote signing with the help of technology nowadays. 
Other than the introduction of simple office automation software, this industry has seen little other developments in hundreds of years. This of course was mainly due to the trust role notaries and lawyers played for which until recently there were no practical alternatives. That is, until the introduction of smart contracts built on decentralized blockchains.
The current role of technology in this industry is restricted to being a facilitator of such cases. Testators and their legal advisors still have to contend with navigating the legalese of jurisdictions. In most jurisdictions, a will cannot be made online, but only a part of it. A few countries have allowed online wills to be made, including the UK, which has a number of online services that allow testators to draft a will online. However, a will is not the only document that can be created online. A holographic will is one that is handwritten by the testator and signed by them in front of two witnesses.
Myend uses technology to disintermediate centralized models and enable the provisioning of legal & financial services anywhere for anyone regardless of ethnicity, age, or cultural identity. The Myend services and app is mostly built on the public blockchain and built on the rails of common technology standards and offers innovative services custom-designed for the DeIN (Decentralized Inheritance) ecosystem.
At the same time, Myend provides their users more control over their inheritance through a personal blockchain e-will. Myend's DeIN (explained below) places technology at the front and center of transactions in the Inheritance services industry.
The right preservation of wealth strategy can offer many long-term benefits. One of the foremost strategies for the preservation of wealth is to create a will. A will can be used to preserve wealth for future generations. It ensures that wealth is well looked after and is passed on to the rightful heir. An optimal wealth preservation strategy takes taxation into account, as a considerable amount of a person's wealth can be lost to taxes, which can thereby affect the total estate's worth.
When holding any kind of assets it's important in naming a beneficiary. This person can be a spouse, child, sibling, parent, etc. In the unfortunate event of death, the assets will be passed on to this nominee.
In the absence of a nominee or in a situation where the nominee on an account does not match the one on the final will, the estate may be subjected to probate. Such a situation can lead to higher administration expenses, delay in the execution of one's final wishes, and be subject to unwanted publicity.
Myend's e-will helps users to prevent this from happening and also takes in account that a growing part of wealth is being stored in digital assets like crypto wallets, online services and off-bank deposit boxes.
Introducing Decentralized Inheritance (DeIN)
In its most simple form, Decentralized Inheritance is a concept where (legal & financial) Inheritance services are available on a public decentralized blockchain network making them open to anyone to use rather than going through a middleman like lawyers or notaries.
When dealing with lawyers or notaries; a government-issued ID, social security number, or proof of address are needed. Identifications and local laws make Inheritance matters complex, with DeIN these issues can be resolved.
DeIN refers to a system where software written on blockchains makes it possible for a testator and their beneficiaries, legatees, devisees, custodians or executors interact peer to peer or with a strictly software-based middleman rather than a lawyer or notary facilitating a transaction. Identification, directives, terms and assets are stored on the blockchain.
Multiple technologies and protocols are used to achieve the goal of decentralization. For example, a decentralized system can consist of a mix of open-source technologies, blockchain, and proprietary software. Smart contracts (e-will) that automate agreement terms between testators and their beneficiaries and executors to make these Inheritance services possible. Regardless of the technology or platform used, DeIN systems are designed to remove intermediaries between transacting parties.
DeIN is an incipient industry whose infrastructure is still being built out. Regulation and oversight of DeIN is minimal or absent. In the future, however, DeIN is expected to take over and replace the rails of modern inheritance.
Key takeaways
Everyone dies at some point, yet death is not the end. Myend sees Inheritance not only as the assets one leaves behind, but as a total of the influence we can have on the world when we are no longer here.


Decentralized Inheritance, or DeIN, aims to use technology to remove intermediaries between parties in an inheritance case.


The components of DeIN are stablecoins, oracles, smart contracts, and a software stack that enables development of online services.


The infrastructure and use cases for DeIN are still in development, while the first online services are already being rolled out.
Myend is developing a unique Decentralized Inheritance (DeIN) service using smart contracts.
It aims to become the next-generation Inheritance service. With the Introduction of the e-will, it's leading by example. It is co-sponsored by world-class cryptographers, an experienced engineering team and entrepreneurs.
Myend is developing a disruptive Inheritance blockchain technology to create a final will and off-bank inheritance platform. Myend uses a variety of the latest trustless and efficient zero-knowledge proof technologies to introduce effective confidential/anonymous asset operations/ transactions into the open blockchain; Myend uses similar technologies to create confidential identity and qualification credentials for the blockchain world.
Myend is going to provide infrastructure to incentivize decentralized inheritance innovation and large-scale migration of the traditional inheritance industry to blockchain.
Myend aims to become the next-generation Inheritance service. With the Introduction of the e-will it's leading by example. The following is a description of Myend's exciting Inheritance products and services, which will act as the foundational element of, and reference implementation for the new product that Myend now intends to introduce.
Myend's existing Inheritance products and services
At present, Myend provides a digital e-will platform which individuals can access by downloading the Myend App on their mobile device or login to the desktop version on Myend.com. They can set up their account for free and become a Myend user. Users can manage their Contacts and invite Legacy Contacts, write farewell messages, manage their belongings and store passwords and keycodes in their personal vault.
Myend is developing a new desktop application with extended features. The e-will services provides detailed questionnaires to create a Funeral Plan Declaration, an ACP (Advanced Care Plan) or a Euthanasia Declaration. Based on their directives a personal e-will is being generated and a copy is made available for download.
The user invites one or two Legacy Contacts who will have to act in case of death. They will notify Myend when the user has passed away. After the Myend's verification process, the e-will will be unlocked and becomes available for the Legacy Contacts and beneficiaries. At this stage the Myend e-will is a non-legally binding document and is used as a directive in case of death.
With the introduction of the Myend app in both Google Play store and the Apple App Store a POC (Proof of Concept) was tested. In a six month run the Myend App (Myend® E-will manager) was downloaded over 100.000 times and converted into 30.000 Myend Users from 173 different countries. The App was made available in 7 different languages; English, Spanish, French, Arabic, Russian, German and Dutch.
In most of the developed countries we see the successful adaptation of the e-will service. The current services provide enough directives to help people with managing their basic final wishes and assets. However, it can be successful once it matures into a legally binding document.
Based on analysis we also see great potential in many of the developing countries. Proof of identity, ownership and the absence of legal structures have a negative impact on their wealth preservation. Savings in local fiat comes with a high risk because of high levels of currency devaluation. However, the rapid adaptation of new services like mobile (online) banking products is significantly growing. Transferring (parts of) their wealth to a stable coin and other fixed supply or deflationary cryptocurrencies, would help secure their estate for the future.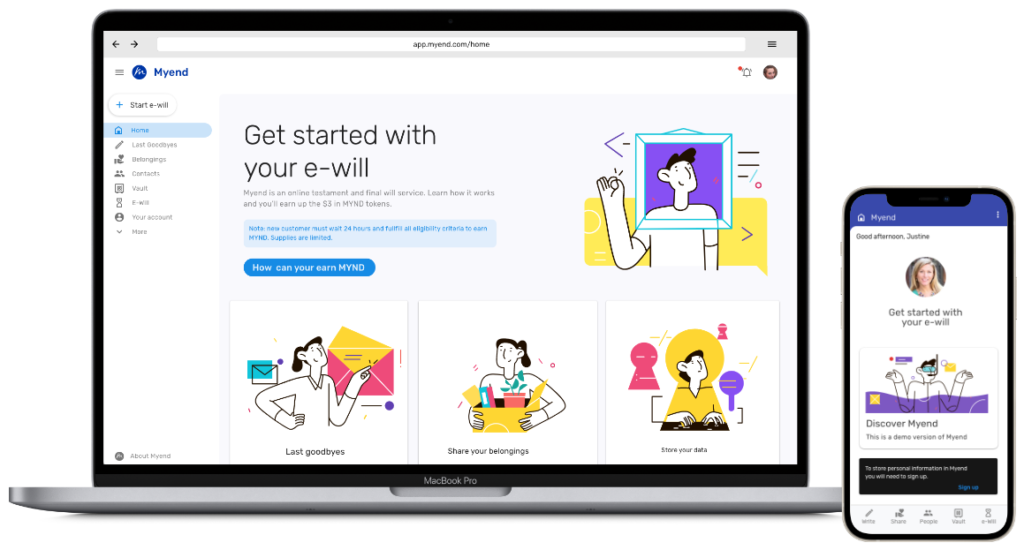 The current active installs will be converted into so-called "Encrypted Inheritance wallets" once the service is fully integrated with the blockchain.
Myend's planned Inheritance ecosystem
In its next phase of development, facilitated by ICOs (Initial Token Offer), Myend intends to go beyond its existing products and services to develop a fully decentralized Myend ecosystem for Inheritance services ("The Ecosystem"). The Ecosystem will consist of three new components (1) a variety of smart contacts; (2) an indigigenouis utility token known as the Myend token or "MYND"; and (3) new software applications introduced by Myend and others, that allow participants to interact within the Ecosystem.
Myend's Ecosystem will be designed to incentivize participation by trustworthy end-of-life and inheritance related providers who may include financial, legal or insurance institutions, government entities or service providers.
Myend will use smart contracts for it's decentralized inheritance ecosystem, which will ideally be built on RSK to give the ecosystem the same security as the bitcoin network, while enabling smart contracts, a high degree of scalability, and instant transactions. The ecosystem is intended to ensure that users remain in complete control over the e-will, by requiring the user's consent before any transaction is enabled between various entities, Legacy Contacts, beneficiaries or external service providers.
Once the user sign-off on a transaction via the smart contract system, the transaction will be paid in MYND.
The smart contract will then allocate a set portion of the paid MYND to the user to incentivize user participation in the Ecosystem. Users will be able to use their MYND to purchase inheritance or end-of-life related products and services from Myend, including some of the products  and services currently available.
Myend envisions that other service providers will also make their inheritance related products  and services available through the Ecosystem, and that users will use their MYND to obtain those third-party offerings.
The user will store  their data on their personal account on a DCS (Decentralized Cloud Storage) which automatically encrypts all the data before being uploaded. User data is only in the hands of the user and available to those the users decided to share with. The e-will is encrypted using AES-256-GCM symmetric encryption to ensure no unauthorized user can access it.
The blockchain on which these transactions are recorded is currently the Bitcoin blockchain, because of its proven integrity and wide adoption. Using the same design it could equally be used on any other blockchain platform.
A proof-of-life- subscription model for Myend users will be part of the platform. The user proof-of-life system has two critical functions. First of all, and most importantly; it tells Myend whether or not a user is alife. When a Legacy Contact reports a death, Myend will have to verify this also with the user. Therefore a proof-of-life request will be sent to the user and in the unfortunate case of no-reply their e-will will be activated. How-ever, if the user does reply; the Legacy Contacts will be deactivated and suspected of fraud. The user will be notified and they will have to re-confirm their Legacy Contacts.

The proof-of-life model is part of the loyalty program to reward users that frequently engage with Myend. It consists of a token system and a tiered program.
The idea behind the proof-of-life incentive is to reward users with MYND tokens everytime they give notice of their well being. The more often a user gives notice, the more tokens they get in return. Tokens can be used for the purchase or discounts on products or services within the ecosystem.
Myend makes it easy for users to understand how the reward program works. Users can earn 1 MYND everytime they give notice with a cap of 4 per month. Then users can put these tokens towards future purchases; increasing data storage, life insurance products, legal consults , end-of-life savings etc. To increase user engagement even further, the Myend platform shows users their token status, redeem rewards and more. Active users will be offert tiers, more exclusivity and benefits.
Myend intends to introduce a Myend token, or the MYND utility coin. Utility tokens are powerful as they have many different use cases and can serve many roles. They can allow seamless transactions over a blockchain, allow payments for decentralized services, like crypto inheritance, identification, asset management and smart contract services.
Smart contracts provide the framework for the functioning of MYND services because they encode the terms and activities necessary for the functioning of these services.
For example, the smart contract would have specific code that establishes the exact terms and conditions of the inheritance between a Testator and Beneficiaries. If certain terms or conditions are met, the Inheritance could be executed. All of this is done completely through a trustless and permissionless process rather than lawyers or notaries manually doing this.
All components of the decentralized inheritance system belong to a software stack. Each layer's components are meant to perform a specific function in the building of a DeIN system. Composability is a defining characteristic of the stack because the components belonging to each layer can be composed together to fashion a DeIN app.
MYND will also provide a means to incentivize all participants, including Users, to contribute to the Ecosystem. Moreover, Myend anticipates that the Ecosystem will develop such that Myend and third-party providers of Inheritance of end-of-life related products and services to the Ecosystem participants in exchange for MYND.
Myend Users who own MYND may be able to use their MYND to purchase existing services directly from Myend. Myend may also build additional inheritance-focussed services that can be exchanged for tokens, including:
Blockchain notary services which would allow identity and document authenticity to legalize their e-will.
Online legal advice services
Life insurance and Prepaid funeral Services.
Asset management and distribution.
Crypto wallet Inheritance
Subscription cancellations services.
File-storage (Decentralized Cloud Storage)
A fixed supply of MYND will be created before the token sale, with no mechanism for supply to be increased.
Using a dedicated token, the MYND, to facilitate transactions in the Myend Ecosystem provides a number of advantages over using existing tokens, including that:
It can be used across any number of jurisdictions, retaining a single uniform method of settlement;


Using blockchain-based tokens makes it possible to perform settlements automatically and irrefutably within the smart contract. The execution of the e-will is guaranteed.


It makes it possible to manage incentives in a way that drives Ecosystem effects for the benefit of all participants in the ecosystem.


Enabling a prove-of-life savings system for the Users and their beneficiaries.
Myend's mission is to redefine the personal will and make it universally accessible and shareable. Myend's proposal to build a new ecosystem will improve the efficiencies and reduce the cost of inheritance services. For the end users, the longer term impact of this disruption should be more control over their final wishes and inheritance with greater privacy on control of their sensitive data.
Simply through participation in the ecosystem users will earn tokens as proof of life and allow them access to a vast array of useful services that will ultimately help them to create, maintain and share their final wishes and optimize wealth preservation.